My Tonsils Had to Be Taken Out: Case Study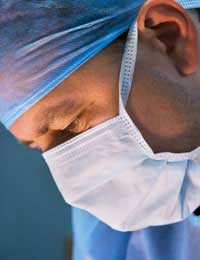 Iain is looking forward to going to university at the end of the summer but a year ago, he was wondering if he had made the right decision to go away from home. But that was before he had his tonsils out...
"In the last three years I have suffered from bout after bout of tonsillitis. I just felt really weak and ill the whole time and seemed to go down with every bug going. Whatever it was gave other people a sore throat and the sniffles for a few days but I would develop massively inflamed tonsils and be in bed for a week or even more," remembers Iain.
This was bad enough at home but at university, there would be no mum to look after him. "Feeling that bad and having to go to lectures and look after myself would have been really hard and I was beginning to think I would be better off just getting a job – but who would want to employ someone who is always ill?" asks Iain.
The Option of a Tonsillectomy
During one particularly bad cold that, of course, turned into tonsillitis, Iain's mum made him an appointment with their GP. "I decided that this could not carry on any longer; people were always having their tonsils out when I was young, so why couldn't Iain get rid of his?" says Linda, Iain's mum.
To their surprise, the GP agreed. Today, it is recommended that people keep their tonsils for as long as they can and only have them out when absolutely necessary. "After all the tonsillitis I had been to him with in the previous 12 months, he said that my tonsils were now more trouble to me than benefit and I would be a lot better having them out," remembers Iain.
The Operation is Booked
Iain had to put up with two more bouts of tonsillitis before the date came up for his operation three months later. "I was only in for the day but my throat was so sore afterwards and I felt like I had been kicked in the head," says Iain.
The tonsillectomy went smoothly and both Iain's tonsils were safely removed. "I had to rest for a week, eating ice cream and sipping warm soup – it got very boring on the food front but my throat couldn't handle anything rough." "He was like a little baby again – when my brother had his tonsils out thirty years ago, they made you eat cereal the next day!" laughs Linda.
For the pain, Iain took paracetamol and codeine in dissolvable form, which helped a lot and he spent the week watching DVDs and playing on his playstation 3. "Before I had the operation I had spent so much time ill in bed, it wasn't a novelty and I was really bored. I was just hopeful that this would be the last time I had to lay around with an aching, burning throat, feeling lousy, for some time."
A Full Recovery
After two weeks, Iain scabs had all disappeared and his throat felt much better. "I think my tonsils had got so swollen they got in the way when I was asleep – I used to snore terribly – but after the operation, no more snoring," says Iain. Following his surgery, Iain started a programme of healthy eating, with plenty of fruits and fruit juice with extra vitamins. "I do still get a few colds but I just sail through them now and I feel better than I have for years. I am really looking forward to university now – I might even be able to manage a few late nights!"
You might also like...
My daughter (8 yrs)had a tonsilectomy 18 months ago after getting tonsilitus every 4 to 12 weeks.However, since September 2010, she has started to get strep throat/ulcers every 8 to 12 weeks. She is now on her 4th course of antibiotics!Could this indicate an underlying illness, eg glandular fever?
Worried Mum
- 1-Jun-11 @ 3:28 PM