Shingles Affected My Throat: A Case Study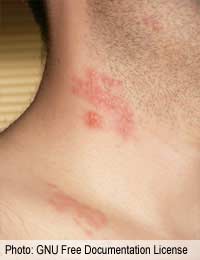 Mary looks frail and older than her 72 years even though it is now 18 months since an attack of shingles left her in hospital for two weeks. Recovery has been a long, slow process and only now is she able to taste some of her food.
"It's funny, I have always been a bit overweight as an adult – not obese, but I could always do to lose a bit of weight. But now I am struggling to eat to put weight on," she says.
Mary's brush with shingles began just after Easter last year. She became aware of a tingling in the skin on the right side of her body that got worse over a few days until the stabbing pain became unbearable. Her GP arranged for an ECG to check out her heart and Mary was worried she had started to develop multiple sclerosis.
"When I started to get a rash on the left side of my body, and then the big blisters came out, I have never known such pain, but at least it was obvious what was wrong," remembers Mary.
What is Shingles?
Shingles is caused by the Varicella zoster virus, the same virus that causes the childhood illness chicken pox. Usually, we have chicken pox as children, when it is a fairly mild viral illness. But the virus then stays with us, becoming dormant in the main nerves in the body. As time goes on, our immunity to the virus decreases and the immune system generally becomes weaker after the age of about 60.
A stressful event can trigger the re-emergence of the virus from the main nerves and it starts to multiply, tracking along the peripheral nerves of the body until it reaches the skin. There it erupts and causes the typical blisters of chicken pox, but in a characteristic pattern, usually on one side of the body.
A Serious Illness
"I know that I had chicken pox when I was about three, but only because my mother had told me. I certainly don't remember, so it was a shock to realise how uncomfortable the blisters were. I will never regard a child with chicken pox as having a mild illness again. It's horrible," says Mary. Her GP arranged for a health visitor to come and check on Mary every other day as her blisters extended from the knee right up to the top of her head on the left of her body. It was a very bad attack of shingles.
"I felt like I had two doses of flu at the same time, very weak, no appetite and I just could not sleep or get comfortable. I really began to worry if I would pull through," she says.On the third visit by the health visitor, Mary's condition had worsened. The shingles blisters were affecting her face very badly and were breaking out in her nose, ear and in her throat. "My eye felt as it if was on fire as well, so the health visitor called the GP and later that day, I found myself in an isolation room in the local hospital," recalls Mary. This was to prevent anyone catching chicken pox from her who had not had it. "It could have been disastrous for one of the young cancer patients there," explains Mary.
Ramsay-Hunt Syndrome
Once in hospital, Mary did at least have access to stronger pain killers which helped the intense pain and itching but the news was not good. She had developed Ramsay-Hunt syndrome, one of the complications of shingles, in which the middle ear, ear canal, external part of the ear and the nose and throat were badly affected. Thankfully, the pain in her eye seemed to be due to general inflammation, she did not develop blisters there.
"I was in hospital two weeks and was really weak when I came out. My hearing has been fine but, like many people who develop this complication of shingles, my taste of smell and taste has virtually gone. This makes it very difficult to get excited about food and I have lost nearly three stone," says Mary.
In the last year, she has recovered slowly and now is beginning to be able to taste strongly acidic foods and some sweetness. Her weight is still low and she needs to consciously make time for three meals each day as if she doesn't, she just forgets to eat. "I know that I need to eat but when you can't taste anything, you don't really get an appetite. The doctors have said it will improve and I am determine to keep going; my third grandchild is due next month and I want to be around a lot longer to enjoy my family," says Mary.
You might also like...