I Got Thrush in My Throat: A Case Study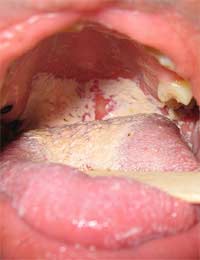 When Fiona's husband was seriously ill in hospital after having a series of three heart attacks in three days she was understandably extremely stressed. "I couldn't sleep, worried that the phone would ring saying that something terrible had happened and I wasn't eating properly and I was in a terrible state," she says.
Fortunately, after seven weeks in hospital and an operation to re-route four of his coronary arteries, Fiona's husband came home to recuperate. "This was still very hard and I was run off my feet. I didn't even notice that my own health was suffering," says Fiona.
Although the worst was over for her husband, Fiona had become very run down and weeks of not eating properly had left her a bit malnourished. After catching an apparently mild cold she developed a chest infection and the GP had to prescribe a dose of antibiotics, which Fiona took for a week.
A Funny Taste
"A week later I was feeling much better. My chest was vastly improved and I was feeling a bit stronger. However, I did notice that my food and drinks did not taste right. I had a strange, metallic taste in my mouth and the surface of my teeth felt very rough, almost furry," she explains. Within a few days, her mouth had become so sensitive that she couldn't brush her teeth to get rid of the furry sensation. "When I looked in the mirror and put my tongue out I couldn't believe the state of the inside of my mouth. It looked like I had eaten some dust and the inside of my throat and my tongue had been completely coated by it," says Fiona.
A Diagnosis of Oral Thrush
Fiona's doctor knew that she had oral thrush, or oral candidiasis when he first looked into her mouth but made sure he confirmed the diagnosis by taking a swab and sending it off to the clinical pathology unit. Oral thrush is caused by fungus of the species Candida and this same fungus causes vaginal thrush, which can also develop after a course of antibiotics. "The GP explained that antibiotics kill all the friendly bacteria in the body openings, as well as the bacteria in my lungs that were giving me the chest infection. As I had also been neglecting my diet, I was not very well nourished at the time and this led to the fungus taking over in my mouth and throat," says Fiona.
Treatment for Thrush
To clear up the immediate problem, Fiona was given some anti-fungal lozenges to suck over the next week and this treated the Candida infection in her mouth directly and very effectively. "I started to notice a difference within about 4 days," she says.
The GP recommended that, now that she was less stressed, that she ought to concentrate on feeding both her and her husband a radically healthier diet and to go with him on his now regular walks to strengthen his cardiovascular system.
"We did that and we really enjoyed getting out more and getting plenty of fresh air. We joined two local rambling clubs and I had no idea there were so many walks within just two or three miles of where we live. The thrush hasn't come back and I also now feel better for eating more fresh food. I think we're both on the mend," she says.
You might also like...