Bad Breath and Your Throat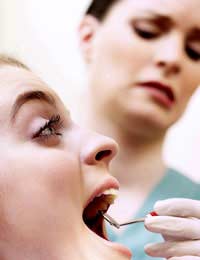 Bad breath is a condition that affects most people at some time during their life. There are many reasons why your breath may become unpleasant, some serious others no so.
Halitosis as it is also known can often be cured very easily if there is no underlying problem as it is simply caused by poor hygiene or perhaps you have recently eaten something highly odourous. If your bad breath continues after implementing some basic measures to improve oral and dental hygiene, it may be sign that there is something else wrong and causing your bad to be malodourous.
How Might Problems With My Throat Affect My Breath?
The most obvious cause of offensive breath being linked to your throat is due to infection.Tonsillitis or other throat infections can often result in halitosis but with these, you will often have discomfort or pain in your throat, particularly when swallowing.
Bacterial and viral infections in the throat can attack the tissues causing a superficial breakdown of the primary layers of tissue. These infections are very common among children and adults and will usually heal without the need of medical intervention using mouthwashes and basic pain relief until the infection has been fought by the body's natural defences.
If your symptoms do not improve over the course of a few days and begin to worsen even after using some simple remedies and you are aware of or have been told that your breath continues to be offensive even when practicing strict oral hygiene, you may have a condition caused by a bacteria called streptococcus pyogenes in which case you will need to see your doctor. This type of bacteria can be very destructive and harmful if it is not treated and will not heal without a prescription medicine.
Bad breath can also be a symptom of sinus congestion that can result in a blockage preventing normal drainage of fluids through the passages that connect the ears, nose and throat. Again, these problems are not often serious and will usually resolve in their own time. But if symptoms persist and you feel you are not getting any better and have other medical problems, please see your GP. Your GP may be able to recommend a treatment, or offer you a medicine, to help ease the symptoms and fight the bacteria that have caused the blockage or thickening of fluids.
Can It Be A Sign Of Something Serious?
If you have no other symptoms other than bad breath, the chances of having a serious medical condition are quite rare. There are however, always exceptions to the rule and it may be a sign of a deep lung infection or a systemic condition such as diabetes or kidney impairment, in which case it is vital that you see your doctor for a professional diagnosis and assessment of your health.
Curing bad breath.
Most cases of bad breath result from your diet or because of dental and oral hygiene issues and these can be easily resolved by improving your diet or cleaning your teeth, tongue and gums regularly. See your dental hygienist if you feel this is the problem and learn how to look after your mouth properly.
If you have a sore throat and are suffering from bad breath the easiest cures are to suck throat lozenges that are heavily flavoured and scented, remembering though to clean your teeth at least twice a day, and to drink plenty.
Drinking plenty of fresh water everyday will help improve so many areas of health, including halitosis. By flushing the throat with clear fluid you will help soften and breakdown the bacteria that has built up along with lubricating the throat and making it easier to swallow.
Avoid highly flavoured and fragranced foods such as curry, garlic and even onions whilst you have a sore throat, as these may make your bad breath worse.
Bad breath does not always involve your throat but if it does the chances are you have a bacterial or viral infection which is rarely serious. If your symptoms do not improve after a few days or you are otherwise symptoms free and you have improved your oral hygiene, please see your dentist or doctor to rule out any underlying conditions.
You might also like...