Congenital Larynx Problems and Treatments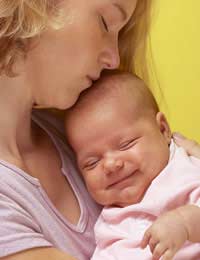 Congenital defects are defined as anatomical problems that occur in babies due to a fault in development that has occurred at some point during pregnancy. Many congenital problems are caused by genetic defects but they can also occur because of an environmental factor such as a viral infection during pregnancy.
Congenital problems of the throat can develop in different tissues and there are a group of recognised syndromes and illnesses that arise because of a problem in the way the larynx has developed. Severe problems are usually recognised early because of breathing and/or feeding problems in a baby in the first few weeks of its life.
The Most Common Congenital Larynx Disorder
This is a condition called laryngomalacia, which affects six out of ten babies born with a problem with their larynx. Normally, cartilage within the larynx keeps it in shape so that it moves backwards and forwards during swallowing, allowing air to pass through into the lungs when it is open, and stopping fluid going into the airways during swallowing and drinking. Babies born with laryngomalacia have softer than usual tissues in the larynx and this is soft so tends to collapse, blocking the airway and stopping the baby from breathing properly.
Babies affected make a lot of noise when they are breathing in and out, and these symptoms first appear when the baby is about a month old. They can cry normally, but the noisy breathing does get worse when they are distressed, making this a terrifying condition for parents to cope with. The good news is that 99 out of 100 babies are happy and still thrive despite having a floppy larynx and things generally sort themselves out by the time the baby becomes a toddler. Only 1% babies need surgery to treat severe breathing problems or failure to thrive due to feeding difficulties.
Congenital Paralysis of the Vocal Cords
This type of laryngeal abnormality affects 2 out of 10 babies born with problems with their larynx and is caused by a problem with the nerves that supply the larynx and vocal cords. This can result from pressure on the babies neck during a difficult birth, or can be due to an underlying problems such as spina bifida or cerebral palsy. In about half of babies born with this condition, however, there is no apparent reason for it.
If the nerves on both sides of the neck are affected, this tends to cause more problems than if only the nerves on one side are abnormal. Babies can have problems breathing and they are also more prone to inhaling milk, causing chest infections. As the child grows, its development and health will depend on whether they have cerebral palsy or spina bifida or one of the other possible underlying conditions. If the larynx problem is an isolated one, the nerves do mature during the first 9 months of life and the problem can resolve. Children with nerve damage to only one side may need no treatment apart from speech therapy as they learn to talk.
Serious Laryngeal Problems
Although very rare, subglottic stenosis is often serious and babies may need to have a tracheotomy because their airway is narrowed by a developmental problem with the cartilage within the larynx. It can be caused by a genetic condition but subglottic stenosis can also be the result of the intubation used in premature babies. Children who are born very premature often need to spend weeks or months in intensive care with full ventilation to help them breathe, and the presence of the tube in their throat can damage the larynx. Rare in the UK but still seen in other parts of the world is subglottic stenosis that develops after an infant is infected with bacteria that affect the throat. Bacterial infections associated with laryngeal damage include diphtheria, typhoid, syphilis and tuberculosis.
Laryngeal atresia is the most serious form of a laryngeal web, in which extra tissue is present in the larynx, which makes the airway through much smaller. In laryngeal atresia, the web is so large that there is no airway through the larynx at all and this means that the baby is unable to even take its first breath when it is born. It can be diagnosed when the baby is still in the womb, but it needs to be recognised straight away so that the baby can be operated on so that he or she can breathe. Further surgery can re-establish an airway through the larynx but babies affected often have a genetic condition and other health problems so may need intensive support and a careful diagnosis.
You might also like...