Salivary Gland Cancer: Symptoms and Treatments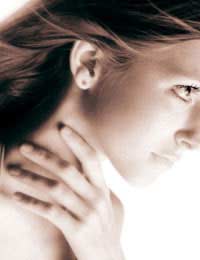 Salivary gland cancer is a type of oral cancer. It is relatively rare but can become quite advanced before it is diagnosed as the symptoms are often ignored. Being more aware of the possible signs of salivary gland cancer can help to detect it earlier, when treatment can be more effective.
Symptoms of Salivary Gland Cancer
A typical sign is to experience inflammation on one side of the face. It is usually felt when chewing or speaking and can either occur in the cheek in front of the ear, or at the top of the neck, just under or just inside the line of the jawbone. Even before a swelling appears, it is common for people to experience a sensation of numbness of the skin in the face, which may come and go at first. As the condition becomes worse, this numbness can turn into a localised paralysis, which may be misdiagnosed as a type of facial palsy.
All of these symptoms can indicate something other than salivary gland cancer but it is a good idea to see your GP if any of them are persistent. The usual guideline for any symptoms is to see a doctor if they carry on for more than three weeks, or if they continue to worsen and become a problem to speaking.
Diagnosing and Staging Salivary Gland Tumours
The salivary glands are in different locations in the face, and a tumour may form in any of them. An oral cancer can also occur in the lining of the cheek, on the gum, or on the tongue and it no obvious cause for the symptoms can be found, it is then necessary to do a full bank of diagnostic tests that include a CT scan, an MRI scan and, if these imaging techniques show something that could be a tumour, a needle biopsy to examine some of the cells within the lump.
If salivary gland cancer is diagnosed, these tests will also help to stage or grade the cancer. The earliest stage cancers are described as T1N0, which means that the tumour is still very small, less than 2cm in diameter, it has not spread and there are no cells in the nearby lymph nodes. At its most serious, salivary gland cancer that has spread to other parts of the body, is large and has also spread to the nearby lymph nodes may be staged as MT4aN2c.
Treatment for Salivary Gland Cancer
If the cancer is localised the best treatment is surgery as quickly as possible to remove the tumour and the salivary gland. If the cancer is caught very early and has not spread, surgery offers a good chance of a complete recovery. Radiotherapy or chemotherapy may be used to make absolutely sure that no cancer cells remain in the area of the salivary glands and that any that have passed to the lymph nodes in the neck are dealt with quickly before they can establish a secondary tumour.
Common Side Effects of Treatment
One of the most distressing problems that people who have had successful treatment for salivary gland cancer experience is dry mouth. The salivary glands produce saliva, which lubricates your mouth keeping in moist. When this no longer happens, or if the saliva is severely reduced, the mouth can become very dry, causing problems with swallowing, eating, chewing and speaking.
Some people with dry mouth find it helpful to suck special lozenges that produce artificial saliva, but these need to be sucked often throughout the day. Taking small sips of water frequently can also help, and the drug pilocarpine can be prescribed in some severe cases to stimulate the remaining salivary glands to produce as much fluid as possible.
You might also like...