Cancer of the Sinus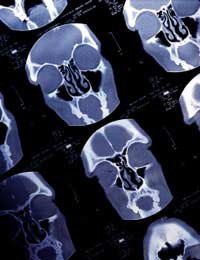 Cancer of the sinus is a condition that commonly affects men more than women, but can affect anyone regardless of sex, age or background though some groups are more at risk than others.
What Is The Sinus?
The sinuses are small channels within the structures of the face such as at the back of the nose. They are usually filled with air and don't have a specific function as such, but can become blocked, often by mucous when we have a head cold, or because they have developed a growth. This growth may arise because a tumour has formed in the bone, but more commonly as a result of a cancerous growth stemming from the membranes within the sinus.
What Causes Cancer Of The Sinus?
For some the cause of cancer of the sinus may never be fully understood, though those most at risk include those working with chemicals, those who are exposed to dust or airborne particles and those who abuse their airway with drugs.
The most important thing to remember if you are working with these factors is to make sure you have access to protective equipment and use it properly. Your employer has a legal obligation to supply protective equipment and to make sure each individual has been shown how to use it properly. It is however the individuals responsibility to use after they have been shown.
What Are The Symptoms Of Cancer Of The Sinus?
Cancer of the sinus often starts with little or no noticeable symptoms and this can be a problem in early diagnosis and treatment. As the disease progresses nosebleeds are common or blood stained mucous when the nose is blown. As the tumour begins to grow the nose can feel blocked or the head can feel congested with mucous similar to the feeling you get with a head cold. The tumour may also encroach on other parts of the anatomy and can press on nerves causing pain or numbness depending on how severely the nerve is affected and this is often felt in the cheek or jaw line.
Tooth ache or jaw pain may occur or constant or increased teary eyes which happens if the tear ducts are being affected.
Treatment Options
Sinus cancer is treated using the same combinations of radiotherapy, chemotherapy and surgery or all three.It is often useful to freeze the tumour and stop is growing using a process called cryotherapy.
Surgery may be an option if the tumour is fairly well contained and does interfere with too many other parts of the anatomy. In this case chemotherapy may be used first to try and shrink the tumour before surgery can be offered.Radiotherapy may be offered before or after surgery, commonly being used both pre and post-operatively.
Fortunately cancer of the sinus is fairly uncommon in the UK, but it is important to make sure you tell your doctor of any persistent problems that you have been ignoring as it may not be a simple head cold.
You might also like...