Bacterial Throat Infections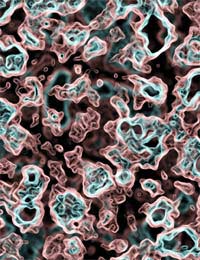 Throat infections are common and most of us are familiar with the uncomfortable symptoms of the condition. Often there is little we can do to prevent them unless we avoid other people altogether but there are ways of minimising the risks and making sure we recover well.
What Causes Bacterial Throat Infections?
Bacterial throat infections are most often passed form person to person through sharing saliva which can be transmitted by coughing, sneezing or kissing; basically any form of exchange of saliva even if it is accidental can cause the bacteria to spread.
Symptoms Of Bacterial Throat Infections
Bacterial throat infections are usually diagnosed by having a sore throat which is red and inflamed. This may be accompanied by a temperature and feeling unwell along with tiredness and headaches as with most head colds.
Are They Dangerous?
Although viral throat infections are most common, bacterial infections are often harmless and will not pose a real throat to health even though they may debilitate us for a few days. It is important however to know when to seek medical help and recognise the symptoms of a more serious infection.
If you have noticed white patches on the throat area, have pus in your mouth, are having difficulty breathing or swallowing even sips of fluid, have noticed a rash on the body or have blood in your sputum, you may need to see a doctor in case you need a prescription, which would commonly be antibiotic therapy.
There is one type of bacterial infection that can be dangerous and that is called strep throat. This type of infection is caused by the bacteria known as Group A streptococcus bacteria and has the potential to cause harm though not in all cases. Children often recover well from this form of infection but if it is left untreated in adults and does not resolve itself may need antibiotic treatment.
Treating Bacterial Infection Of The Throat
Throat infections of any kind can be treated at home. Drinking little and often will help as long as the fluids are not too hot as this will aggravate the inflammation further. Take paracetamol to reduce any fever and help with pain and discomfort and stay warm and rested. Try not to use your voice unless necessary as this may strain your vocal chords which are at risk whilst you have a sore throat.
Prevention Of Infection
It is probably unrealistic to think that we call avoid all forms of sore throat and infections but we may be able to lessen the risk.Making sure we are healthy is essential in fighting off infections and recovering from illness well. The key issues surrounding this area are diet and hygiene. Eating a diet that is rich in essential nutrients such as vitamins and minerals will help keep our immune systems healthy giving it more power to fight illness and disease.
Along with this is the area of personal hygiene. Having our own toothbrush for example will help prevent the spread of infection, also making sure we wash our plates, knives, forks and spoons properly will help reduce cross contamination and protect us from bacterial spread.
Sore throats are particularly common in children and in the winter months but are not usually serious. They can frequently be treated at home without seeing a doctor unless you have any of the mentioned complications.
You might also like...
i hv bacterial throatinfection from 4days,,i hv used orthobid and ciprobid,my fever is over bt stillinfection in throat,wt should i do???
dipu
- 25-May-12 @ 11:52 AM