All About Laryngitis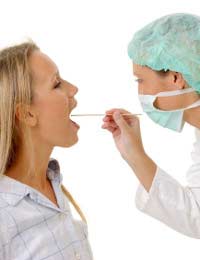 The larynx is a major part of the anatomy of the throat and is often referred to as the voice box or vocal chords as it is this part that is home to the vocal folds that vibrate to give us sound.
What Causes Laryngitis?
When the larynx becomes inflamed it is called laryngitis and the inflammation is normally due to a viral infection (though occasionally a bacterial infection) that has targeted the larynx.The condition may also be due to overuse of the voice and may be common amongst singers or those who speak loudly for long and regular durations.
Symptoms Of Laryngitis
The main symptom of laryngitis is a weakness or hoarseness of the voice. These can begin quite mildly as a deepening of the voice in general but can progress very quickly until the voice is almost or completely absent for some time.
The loss of voice may be accompanied by a tickle in the throat or soreness. In some instances the soreness can mean that there is difficulty in swallowing and only fluids can be tolerated.
If pain is present it is also likely that there will be some degree of fever and generally feeling unwell.
How Do I Treat Laryngitis?
In the majority of cases laryngitis is not serious and will usually resolve itself over a few days possibly a week or two. Symptoms can be eased by using lozenges that have been designed to be soothing on the throat, drinking often, stopping smoking and avoiding smoky places and resting the voice. If you are having difficulty talking it is recommended that you use your voice as little as possible and allow the tissues time to rest and rejuvenate.
It may be helpful to keep the airway hydrated and soothed by taking steam inhalations; using a facial sauna in a small and enclosed room for 10 – 20 minutes might be ideal.
Although laryngitis is not normally serious it does have the potential to cause problems. If your symptoms persist for more than 2 weeks, if your temperature has increased to over 100 degrees and does not improve with paracetamol, if your airway seems to be getting smaller or feeling blocked or your sputum is blood stained or discoloured, please see your GP as you may have an underlying and more serious infection.
Whilst you are suffering from the symptoms you should rest and keep warm using over-the-counter painkillers if necessary.
Preventing Laryngitis
Most of the time laryngitis is unpreventable as the germs or strain that cause it are unavoidable; however, if you spend little time with other people or do not use your voice you may be less susceptible than others, though falling into these categories is quite rare.
If laryngitis is unpreventable there are some measures that can be taken to stop it from deteriorating and progressing to being unwell or losing vocal power. As soon as you feel your voice has been affected or you have a sore throat, you should rest your voice and make sure you drink plenty of water to keep the area flushed, hydrated and lubricated.
If you are prone to sore throats and laryngitis try and avoid spending time with those who also have throat infections or a common cold, as you are more likely to suffer too.
Experts also believe that a simple clearing of throat can be harmful to the throat if done often, as it causes unnecessary strain and added mucous secretions in the throat tissues, especially the larynx.
Laryngitis is fairly common and most often non-serious but if symptoms persist or you have regular bouts you may have an underlying more serious infection that will usually need treating.
You might also like...