The Function of the Throat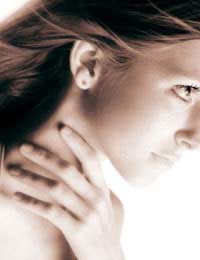 Often underestimated by the public, the throat is a delicate system that serves many purposes.Not only does it form part of the digestive system, it helps control salivary build-up, aids speech and protects the airway from obstructions and serves as a passage for excess mucous.
The anatomy of the throat includes the pharynx, the larynx, some of the trachea and the upper part of the oesophagus; these parts all have their own function but combine to make the throat.
How Do We Swallow?
Swallowing actually begins before we put food or drink into our mouths. The anticipation and expectancy of receiving food causes our salivary glands to produce more saliva. This is vital in breaking down food so that it is small enough to fit down the throat and also acts as the first stage of the digestive process.
When we eat, we chew the food into smaller and moister pieces, using our saliva, teeth and tongue, to begin breaking it down until we know it will fit down the small opening in the throat that will lead to the oesophagus and stomach. When the food is small enough the tongue accepts the food and pushes it towards the back of the mouth.
Many pairs of muscles work together to push the food down the throat via the pharynx which connects the back of the mouth with the top end of the oesophagus. Whilst this occurs, the larynx (vocal chords) closes to prevent any food or saliva from being passed into the airways which can lead to choking and other complications such as infection.
How Do We Talk?
When we talk, air is pushed through the larynx which is made up of vocal folds of tissue and ligaments that give us the ability to speak.
When air is pushed through the folds of skin they produce sounds by vibration. The volume and nature of the sound can be dependent on the rate at which the air is pushed through. The degree to which the folds (or chords) are stretched will also help to control the sounds and help us produce recognisable noises.
Why Do We Cough?
Coughing mainly occurs for two reasons. Firstly, coughing exists when our airways are irritated, whether this is from infection or irritants. We use the muscles and components of our throat to allow uncontrolled air out of our body and also when we need to expel mucous that might have built up a as consequence of the infection or irritation.
Secondly, we cough when we swallow something and our airway hasn't fully closed. The larynx should close and prevent food and fluid from entering the airways and lungs, but occasionally small fragments can find their way through which causes us to cough. The coughing action thrusts short sharp bursts of air through the larynx aiming to remove the blockage or irritant.
The throat is a complex anatomical collection and has three main functions. The main one is to allow us to swallow food and fluid, the others are to allow us to talk and give us the ability to cough.It can become damaged very easily which can affect any or all or these functions.
Throat Problems is sponsored by Purely Energy, who have funded a lot of our content. If you are looking for a low cost business energy supplier, take a look at their website.
THROAT PROBLEMS IS FOR SALE.
This website is for sale [more info].
You might also like...
@Lisa14 - have you seen your GP? It might be worthwhile you taking a trip just to get it checked out if you are concerned. We couldn't advise what it might be, but your doctor will be able to help.
ThroatProblems
- 7-Jan-15 @ 1:58 PM
Hi, for a while now I have had a hard lump at the back of my throat. It is in the centre I can touch it with a single finger at it feels more like a small ball. It's not painful but makes it uncomfortable to swallow? I don't have tonsilitus. Not sure if this is normal? Thanks
Lisa14
- 1-Jan-15 @ 12:10 AM
@Maxine - sorry to hear you still suffering from problems. I'm afraid we can't commment directly on medical problems. However, it sounds to me like you need to re-visit your doctor, who can re-assess whether the medication is continuing to work, or, send you for more tests.If you haven't visited your GP for a while there may have been advancements made or other medications bought to the market which may help you further.
ThroatProblems
- 3-Nov-14 @ 12:50 PM
I was a passenger on a motorbike and went flying through the air hitting the car in front when the driver braked suddenly. I was knocked out unconscious. I got sent to hospital but was not diagnosed and sent home. This happened in 2002 and ever since I have had to take Losec as got heartburn but also find it difficulty swallowing at times. I had a barium swallowing Xray and they told me it was a muscle problem and I did not have reflux. There has been no further investigation and I am still on Losec. I feel with the force of coming off the bike and the helmet strap had something to do with these muscles. I am still suffering today and trying to find an answer. Do you have any answer to what is wrong. Thanking you.
Maxine
- 2-Nov-14 @ 4:31 AM