Treatments for Throat Cancer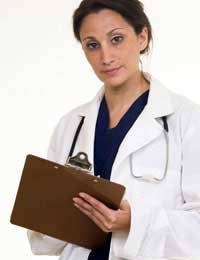 Oral cancers have the highest incidence rate of all the head and neck cancers so an early diagnosis and appropriate treatment plan are essential in ensuring the best outcome of the disease.
Types Of Treatment For Throat Cancer
Depending on the location of the tumour, its size and whether it encroaches on other parts of the anatomy, contributes in the decision as to the type of treatment offered aiming for the most successful outcome.
Often a combination of therapies is necessary to make sure that all traces of the cancer are destroyed and prevented from returning.
The treatment given may also be determined in the presence of any metastases (or spread) of the cancer to other parts of the body.
The treatments offered will include surgery to remove part or all the tumour if possible, chemotherapy which uses drugs to fight the cancer cells and radiotherapy in which high powered beams of energy are targeted at the cancerous growth and aim to prevent it growing and hopefully destroy any remnants.
Surgery
When cancer is suspected, your doctor may want you to undergo a biopsy of the growth to achieve an official diagnosis of cancer and this may require a very small procedure during which a small amount of tissue is collected and sent to the laboratory for analysis. Following the diagnosis it is likely that you will be referred for further surgery to remove the entire tumour if this is thought to be possible; many forms of mouth and throat cancer are successfully removed using surgery.
The type of surgery will depend on the size of the tumour as small growths may be more successfully treatable using laser therapy, whilst more extensive tumours will require more intricate but extensive surgery.
You will probably need to have a general anaesthetic whilst the tumour is removed and at least one overnight stay.Many forms of surgery for throat cancer will leave some scarring or after effects concerning the function of the mouth. This may be permanent or it may be possible to reduce in the future using re-constructive surgery or simply be refashioning the scar.
Chemotherapy
Chemotherapy involves the use of very powerful cytotoxic drugs which are usually given via a vein (intravenously). These drugs target cancer cells and interfere with their growth.
As the drugs are so powerful, they can cause some rather nasty side-effects though these don't affect everyone. The possible side-effects can include but are not limited to hair loss, nausea, lower resistance to infections and changes to the blood. They should cease shortly after the chemotherapy has finished.
The treatment normally requires the patient to attend a series of sessions to receive the drugs, often over the course of several weeks.
This form of treatment is seldom used alone and can be given before or after surgery or in combination with radiotherapy.
Radiotherapy
There are two forms of radiotherapy that might be considered. One involves directing beams of x-rays from outside the body that can be aimed towards the tumour, whilst the other is given internally. Small 'rods' which are radiotherapy devices can be implanted directly into the tumour and left in situ until your medical team are happy that they have served their purpose.
Throat cancer can be treated in a number of ways and the type of treatment that you receive will depend on your individual circumstances and your general health.Please speak to your specialist to discuss your treatment and its implications.
THROAT PROBLEMS IS FOR SALE.
This website is for sale [more info].
You might also like...
Mouth ulcers, throat ulcers, very sore mouth, difficulty swallowing
jazz
- 16-Sep-15 @ 9:35 PM